Diversity of electeds: Elected officials should reflect the diversity of the population.
Insights & Analyses
While the region is 62 percent people of color, people of color hold just 37 percent of top local elected offices.
Regionwide, men are overrepresented in top elected positions, but women have gained ground, increasing their share of seats to 48 percent as of January 2023, from 44 percent in July 2019.
Asian Americans and Latinx populations continue to be sorely underrepresented among local electeds. Latinx and Asian Americans make up half of the region's population but are just 25 percent of top local elected officials.
Among the nine counties, San Mateo County has the highest overrepresentation of white elected officials compared to its population as a whole. 
 
Drivers of Inequity
The underrepresentation of people of color in elected offices — even in jurisdictions with large communities of color — is an outcome of the deep legacy of racial exclusion in electoral politics throughout American history. Since the end of the Civil War, racist public institutions and civilians have used a variety of mechanisms — poll taxes, residency requirements, literacy tests, intimidation, and physical violence — to deny Black people their right to vote. In many jurisdictions, legislatures have used (and continue to use) gerrymandering to split voters of color across electoral districts and thus dilute their political power, or run at-large elections that can overlook the concerns of smaller voting blocs. Long hours, low pay for electoral work, and the high costs of running a campaign disproportionately disadvantage people of color and low-income candidates who have limited personal wealth. The increasing flood of private-sector money into local campaigns adds to the financial challenge for candidates attentive to working-class concerns. With so few electeds from working-class communities of color, there is also limited existing organizational infrastructure to recruit, train, organize, and mentor promising young people in campaigns and electoral politics.
Strategies
Build community power: Strategies to increase political representation and power
Urban Habitat's Boards and Commissions Leadership Institute (BCLI) trains the next generation of leaders. Since 2010, BCLI has been training leaders from underrepresented Bay Area communities to serve on decision-making bodies. The program empowers residents to lead on the issues that most directly impact their neighborhoods, including transportation, housing, and jobs. BCLI alumni have won more than 40 seats on city councils, priority boards, and commissions, including planning commissions, housing authorities, and rent boards. The program has been replicated in other metros, including the Twin Cities and Sacramento. Learn more.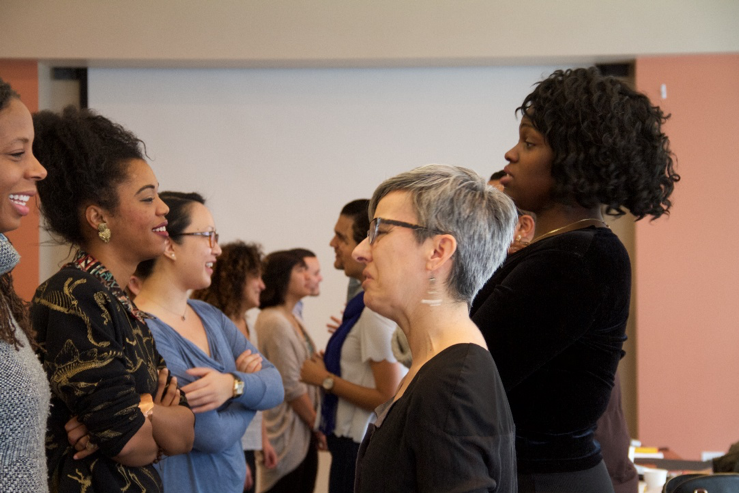 " "I didn't want to be an elected official, but I was motivated to run for office because I just didn't see anybody in the race who was going to be willing to have values radical enough to do what residents actually needed to be done.""
Antioch City Councilmember Tamisha Torres-Walker had no political ambition — an admission of her own. However, she ran for office because she felt that none of the other candidates reflected the values and lived experiences of the city's communities of color. People of color account for 73 percent of Antioch's total population, but only 45 percent of elected officials representing the city, which includes Contra Costa County electeds, are people of color.  When Councilmember Torres-Walker won her first term in 2020, she became the first Black Latina to join the five-member city council. She stepped into office clear on her priorities: to uplift and support communities of color. During her tenure, she has helped pass progressive policies like rent stabilization, guided the creation of a mobile mental health crisis team, and secured funding for transitional housing and violence prevention. Learn more.
Photo: Felix Uribe