Nativity and ancestry: Immigrant inclusion is integral to our cultural and economic vitality.
Insights & Analyses
U.S.-born Latinx, Asian American, and Mixed/other populations are the fastest growing groups in the nine-county Bay Area.
Among the Asian American population in the five-county Bay Area, East Asians represent the largest share, followed by Chinese Asians and Southeast Asians.
In the nine-county Bay Area, the majority of residents who identify as East, Southeast, or South Asian are immigrants, as are the majority of Central and South Americans.
Samoans comprise the largest share of Pacific Islanfer residents in San Francisco County with close to a thousand people.
Drivers of Demographic Change
With its ties to the Pacific Rim and Mexico, the Bay Area has long been a destination for immigrants, and boasts one of the most diverse populations in the country, if not the world. Within broad racial groups, Bay Area residents have roots in an immensely diverse mix of countries. Latinx and Asian or Pacific Islander residents are becoming a larger share of the region due to population growth among both U.S.-born residents and immigrants.
Strategies
Invest in people: Strategies to strengthen immigrant inclusion
Oakland disaggregates student data to increase representation and foster belonging. In 2016, AYPAL, a community-based organization working to empower Oakland's low-income Asian and Pacific Islander immigrant and refugee families, and the Oakland Unified School District Office of Equity passed a "Disaggregated Data Resolution" expanding the options that students can identify for their race. By adding more flexibility and new categories like 'Mien' and 'Tongan,' the new data collection practice helps capture the unique backgrounds and challenges of specific communities that are not represented in broader racial categories. This data can serve as the basis for improved services, contributing to improved academic outcomes and fostering a sense of pride in identity—as described in this student-produced testimonial video. The resolution was expanded in 2019. Learn more. 
Photo: Disaggregated Data Presentation at City Council - AYPAL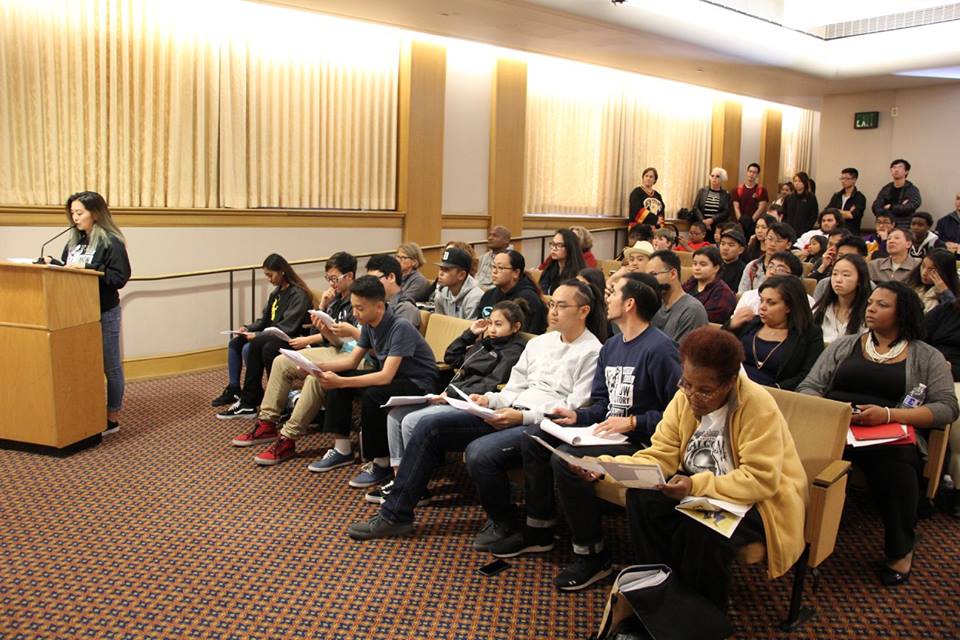 " Sometimes rent is more expensive here, but we stay here because the Mexican store is around the corner. We live here because you can speak Spanish."
Darling Ruiz moved to the United States after a devastating fire destroyed her entire home and all of her possessions in Mexico. She is one of 18,000 Latinx immigrants living in Marin County. When she arrived, she became engaged with the Canal Alliance and co-founded Voces del Canal — a volunteer advocacy group that focuses on improving the health and economic well-being of people living in the Canal neighborhood of San Rafael. Learn more. 
Photo: Felix Uribe