Bay Area Equity Atlas Update
July 11, 2019
When you sign up for our email list (below right), you will receive updates about new Atlas content, events, and examples of equity data in action.
Dear Bay Area Equity Atlas Users,
Happy July and welcome to our first monthly update! It has been a terrific first month for the Atlas. Since our June 4th launch, more than 3,000 people have visited the site and we are beginning to hear stories about how people are using Atlas data to inform their work to advance equity. Here is a roundup of our forthcoming events and latest activities.
 
Upcoming Webinar: Using Bay Area Equity Atlas Data to Prevent Displacement and Protect Renters
Data on how the housing crisis is affecting renters is a key ingredient in winning the strong tenant protections needed to stabilize renters and halt displacement. On July 23rd, from 3:00 - 4:00 p.m. PST, join the Atlas team and tenant advocates working in Concord, Hayward, Oakland, and San José to learn about how these local leaders are using Atlas data in their organizing and policy campaigns and what renter data you can find on the Atlas. Register here.
 
New Analysis: Bay Area Diversity Not Reflected Among Top Elected Leaders
The Bay Area is one of the most diverse regions in the country, but our analysis of the unique diversity of electeds dataset in the Atlas reveals that Whites (especially men) were overrepresented among elected officials while Latinx and Asian or Pacific Islanders were underrepresented. As of May 2018, 74 percent of top elected officials were White, while 40 percent of the population is White, and only 19 percent of electeds were Latinx or API, although those two groups represent half of the population. Read more.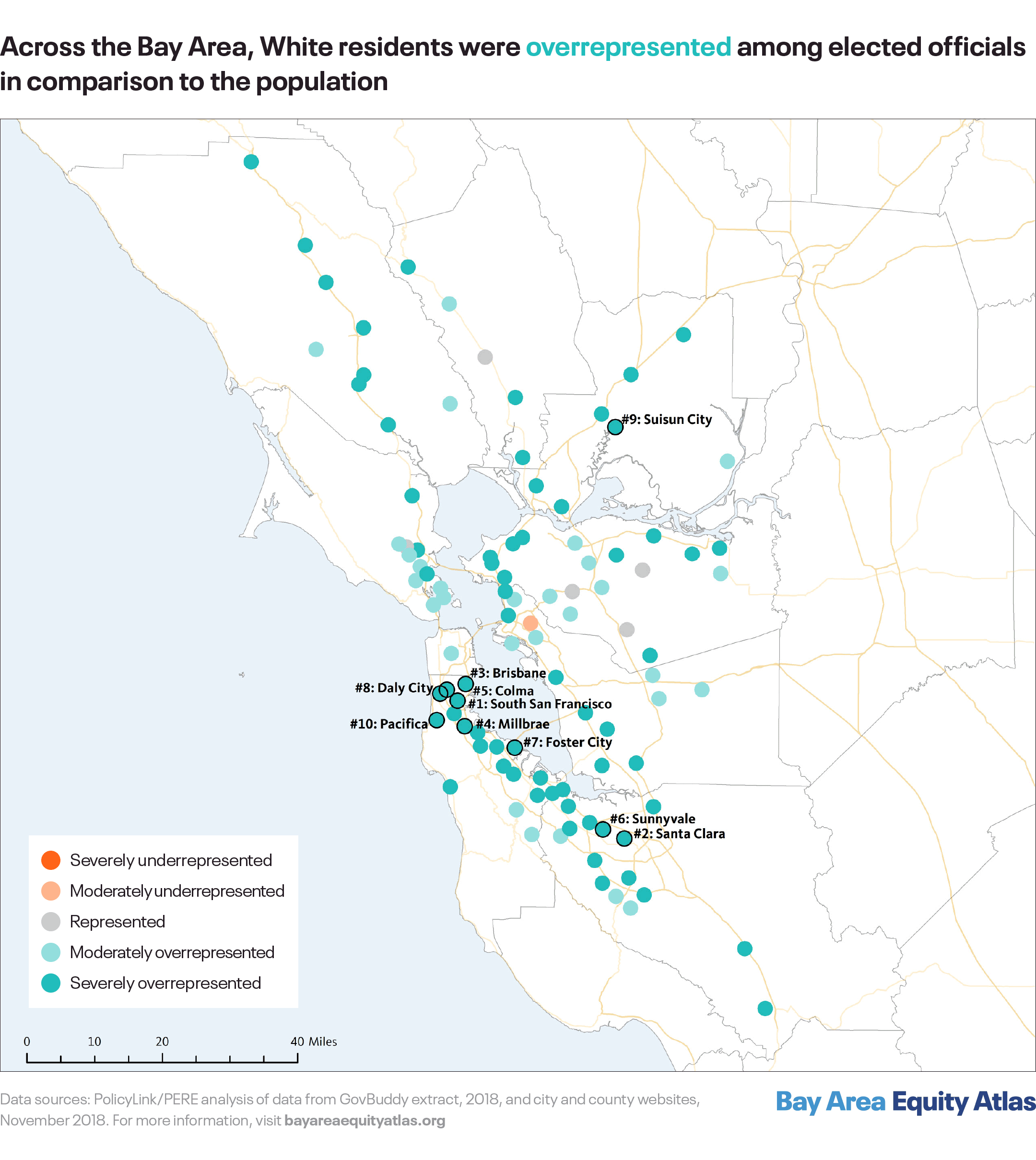 Data Storytelling: New Partnership with Bay City News 
Helping journalists incorporate a strong equity analysis into their reporting through the use of disaggregated data is one of the Atlas team's goals, so we are thrilled about our new partnership with Bay City News Service and sister LocalNewsMatters.org website to produce a series of 10 stories drawing on Atlas data. Check out the first two stories: Equity Ripples: Concord Feels the Weight of Bay Area Housing Crisis and Communities of Color Shifting to Suburbs, and follow #BayAreaEquityAtlas for upcoming stories.

Spreading the Equity Data
Our team was happy to conduct a training for the Northern California Grantmakers' Racial Equity Action Institute cohort of leaders in business, government, nonprofits, and philanthropy. We also presented to the Power of 9 Committee and the Contra Costa Budget Justice Coalition workshop in Antioch. Interested in hosting a presentation or training? Drop us a line at info@bayareaequityatlas.org.
 
Atlas In the News
The launch of the Bay Area Equity Atlas was covered by SFGate, CBS San Francisco, Napa Valley Register and SF Bay. It's mission, background, and features were also highlighted by Philanthropy News Digest.
Thank you!

The Bay Equity Atlas team