Event | Using Data to Advance Equity in Marin County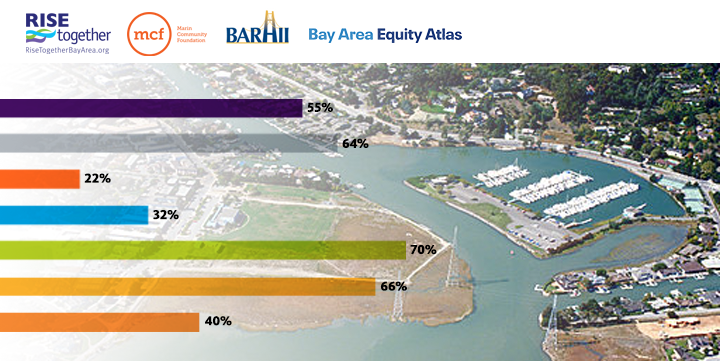 The Marin Community Foundation and Rise Together Bay Area invite leaders and staff of Marin county community organizations, businesses, and government agencies to join us on Wednesday, October 16, 2019, at 1 PM for an introduction to the Bay Area Equity Atlas.
Created by the San Francisco Foundation, PolicyLink, and the USC Program for Environmental and Regional Equity (PERE), the Bay Area Equity Atlas is a first-of-its-kind data and policy tool to track the state of equity across the region and drive solutions for inclusive prosperity. The Atlas contains 21 equity indicators for 272 geographies across the nine-county region, along with policy strategies, examples, and stories sharing residents' experiences of the issues and solutions.
The two-hour session will be divided into two parts:
1:00 - 1:45 p.m. Overview of the Bay Area Equity Atlas
Sarah Treuhaft, Managing Director at PolicyLink and the project lead for the Bay Area Equity Atlas, will share an overview of the Atlas, how people are using it, and how it can support Marin county community leaders in advancing equity.
2:00 - 3:00 p.m. Hands-On Data for Action Training
Interested in a deeper exploration of this tool? Bring your laptop and participate in this training on how to access data from the Atlas and explore how you might use the Atlas in your work. This training is open to people of all levels.