An In-depth Look at the Bay Area's Housing Crisis
Dear Atlas users,
The Bay Area has long been entangled in a housing crisis — and all signs point to it continuing to worsen. Our latest analysis and feature story illustrate how rising housing costs and uneven wage growth are straining household budgets and jeopardizing the region's diversity, growth, and prosperity. With a renewed push to tackle the region's housing crisis underway, data on how it is affecting residents is a key ingredient in securing the policies needed to stabilize families and keep them in their homes. Here are more housing-related updates from the Atlas:
Bay Area Residents Grapple with an Ongoing Housing Crisis and Rising Housing Costs
In the third analysis in our four-part series on the region's recovery, we examine how Covid-19 has impacted housing affordability. The most current data shows that neighborhoods across the entire nine-county region have become less affordable for renters and homebuyers alike since the pandemic began. An estimated 89,000 Bay Area households were behind on rent at the end of February, with residents of color bearing an outsized share of this regional rent debt. Renters have also accrued significant amounts of "shadow debt" because they've been forced to borrow money from people or lending institutions to cover their unpaid rent. Explore the Bay Area Recovery Tracker to delve deeper into the data and our insights.
In Focus: Rent Burden in the Bay Area
At the beginning of the pandemic, Joseph Alvarez moved to an apartment complex in Petaluma with his wife and children. It was the closest and most affordable option near his job in San Rafael. When their lease was up for renewal, the family was hit with a rent increase. Now, Joseph worries that they'll be priced out of the area if this trend continues because his income is not increasing at the same rate. He is among 24 percent of the renters in Petaluma who are severely rent burdened, those who spend 50 percent or more of their monthly income on rent. In the nine-county region, nearly half (47 percent) of renters are rent burdened, which means that 30 percent of their income goes toward paying rent. Learn more about Joseph's story — and find data on eliminating rent burden for your community.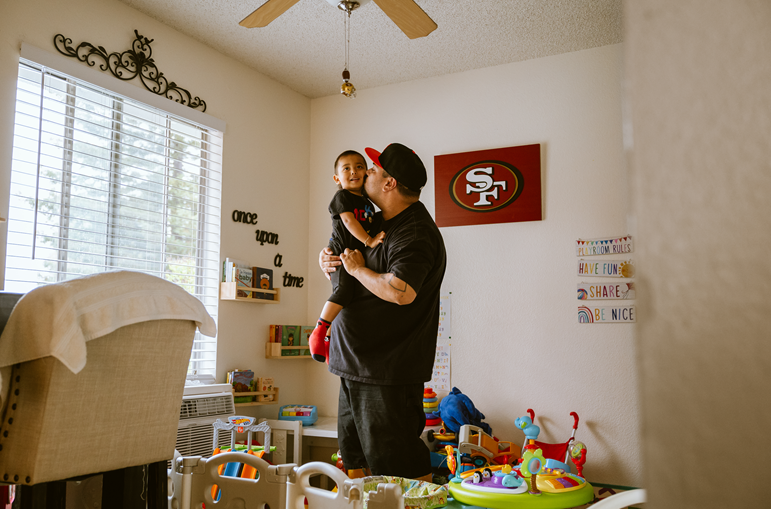 Photo: Felix Uribe
Atlas in the News
Over the past month, our data and insights have been featured in several local outlets. Here's a brief roundup: the San Francisco Chronicle's Soleil Ho included data from our homeownership indicator in an op-ed about the fight over tenant protections in the Bay Area. Mercury News also cited Atlas data on homeownership rates in a piece about the growing gap between Black and white homeownership across the region. The Bay Area News' Kiley Russell covered our report on the economic challenges still facing the region's communities of color and low-income communities. For more Atlas-related media coverage, explore our news archive.
Thank you,
Bay Area Equity Atlas team