Our New Homeownership Indicator Reveals Stark Racial Inequities in the Bay Area
Dear Atlas users,
As evidenced by our most recent rent debt analysis, low-income people of color in the Bay Area continue to suffer from the devastating impacts of the pandemic even as other aspects of the economy return to 'normal.' Local governments as well as the state government must do more to ensure these communities have access to stable housing and a just economy — through continued eviction moratorium and targeted economic recovery programs. The Atlas team is committed to supporting Bay Area residents to realize these policy wins through disaggregated equity data and research support. Here are some updates:
In Case You Missed It: Check Out Our Recent Conversation with Local Leaders on Fostering Increased Diversity Among Local Elected Officials
The Bay Area is one of the most diverse regions in the nation, but our recent analysis finds that while people of color make up 60 percent of the Bay Area region they are just 34 percent of top elected officials. In a September 9 webinar, we dug into these findings and pointed to potential pathways to increase representation — such as through district-based elections — with a great panel of local leaders. Clarissa Doutherd and Shanthi Gonzales shared their experiences as women of color running for Oakland Unified School District board. Other featured speakers include Bay Rising Executive Director Kimi Lee, Urban Habitat Executive Director Ellen Wu, and Atlas team member Michelle Huang. You can find a recording of the webinar here as well as our op-ed.
Our New Homeownership Indicator Reveals Persistent Racial Gaps in Access to Wealth-Building Opportunities
This month, we added Homeownership as the 22nd indicator on the Bay Area Equity Atlas to democratize data on homeownership rates by race, gender, nativity, ancestry, and geography between 2000 and 2019, the most recent year for which this data is available. We also highlight key insights from this data for the Great Recession through the long economic recovery until right before the Covid-19 pandemic. Find the analysis of the new homeownership indicator here.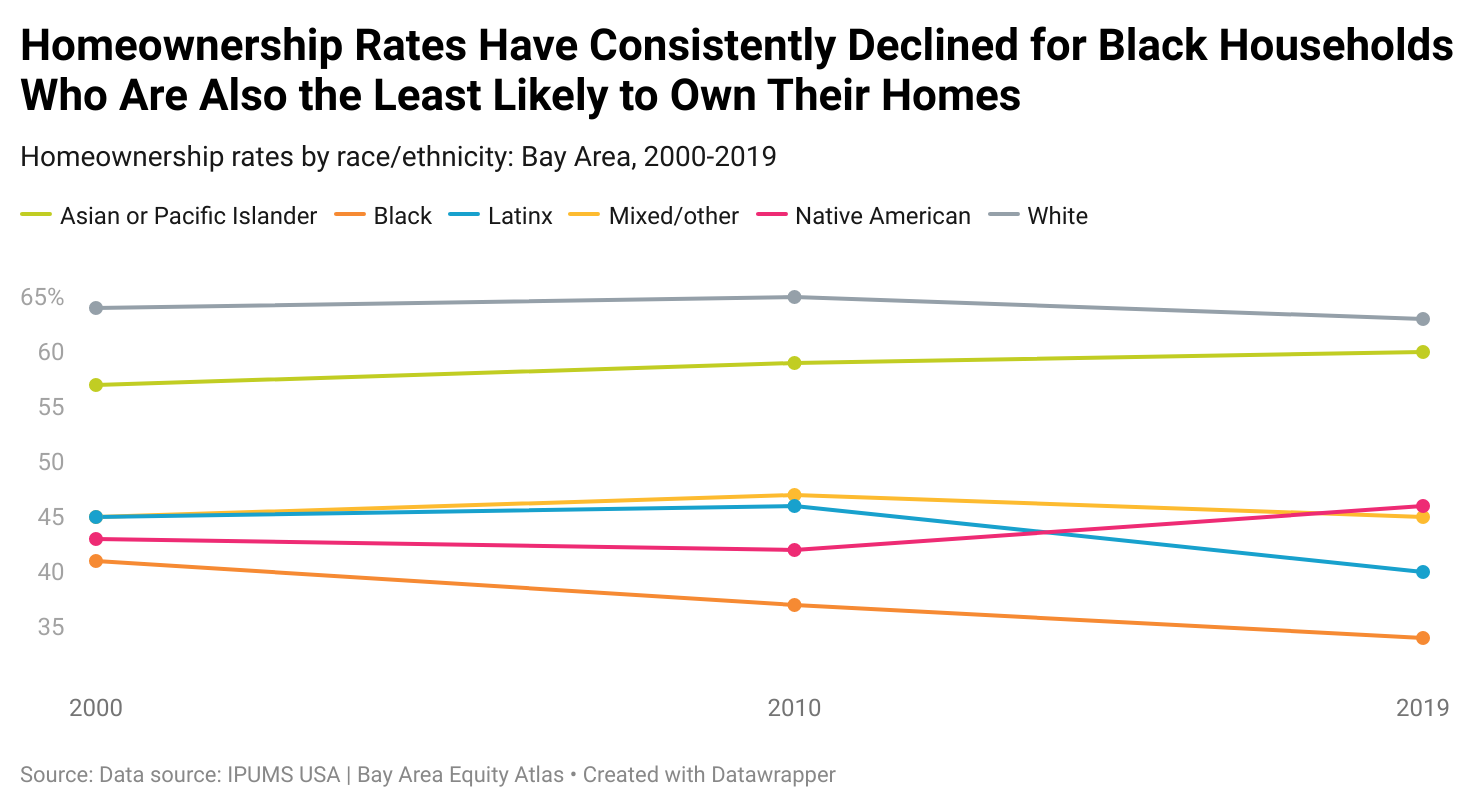 Bay Area Renters Still Owe Millions in Pandemic-Related Rent Debt
Our updated Rent Debt Dashboard reveals that thousands of Bay Area renter households are behind on rent payments. In Santa Clara County alone, we found that 23,504 households owe rent, totaling more than $109 million dollars. Despite the need for immediate assistance, rent relief distribution lags behind in the region: just 6 percent of relief funds have been distributed in Santa Clara County. The Raise the Roof coalition and other community advocates cited data from the dashboard to the Contra Costa County Board of Supervisors September 21 in their fight to protect low-income tenants at risk of eviction, temporarily limit the scope of just cause evictions, and allocate county funds for expanded tenant legal services. The Atlas team also provided public comment and cited the dashboard during the Board of Supervisors meeting to make the case for stronger renter protections during the pandemic.
In the News
Our analysis on the diversity of Bay Area electeds was featured in the SF Chronicle, SF Gate, Post News Group, and the Daily Journal. Check out a complete list of our coverage here.
Thank you,
Bay Area Equity Atlas team