Bay Area Equity Atlas Update
October 22, 2020
When you sign up for our email list (below right), you will receive updates about new Atlas content, events, and examples of equity data in action.
Dear Bay Area Equity Atlas Users,
With the election upon us, the Atlas team is getting ready to update our data on the diversity of electeds in the region. More than 300 top elected positions throughout the region are up for reelection on November 3, and 70 percent of them are currently held by White officials. This creates an important opportunity to increase equitable representation in public office.
We're Hiring!
The National Equity Atlas team is recruiting a Senior Associate to lead a new Racial Equity Data Lab initiative that will help community leaders use Atlas data to advance equity-focused campaigns and initiatives. This new team member will design a new visualization workspace on the Atlas powered by Tableau and launch a Equity Data Fellowship for leaders of color. If you know of any candidates who are passionate about equipping equity advocates with data and visualizations to strengthen their campaigns for racial and economic justice, please send them our way. Read the full job description here.
New Analysis: Black Residents Remain Underrepresented in Bay Area
Systemic racism impacts all facets of life for Black Bay Area residents, including political representation. Our new analysis finds that region wide, the share of Black local elected officials equals the share of Black residents. However, Black residents are completely left out of elected office in 80 out of the region's 101 municipal governments. While some cities have recently improved representation, others fell behind — particularly inland communities whose Black population has increased in recent years due to gentrification. The San Francisco Chronicle interviewed Atlas team member Sarah Trehauft about the analysis in a recent article about the only Black candidate running for office in Vallejo. Check out the article here.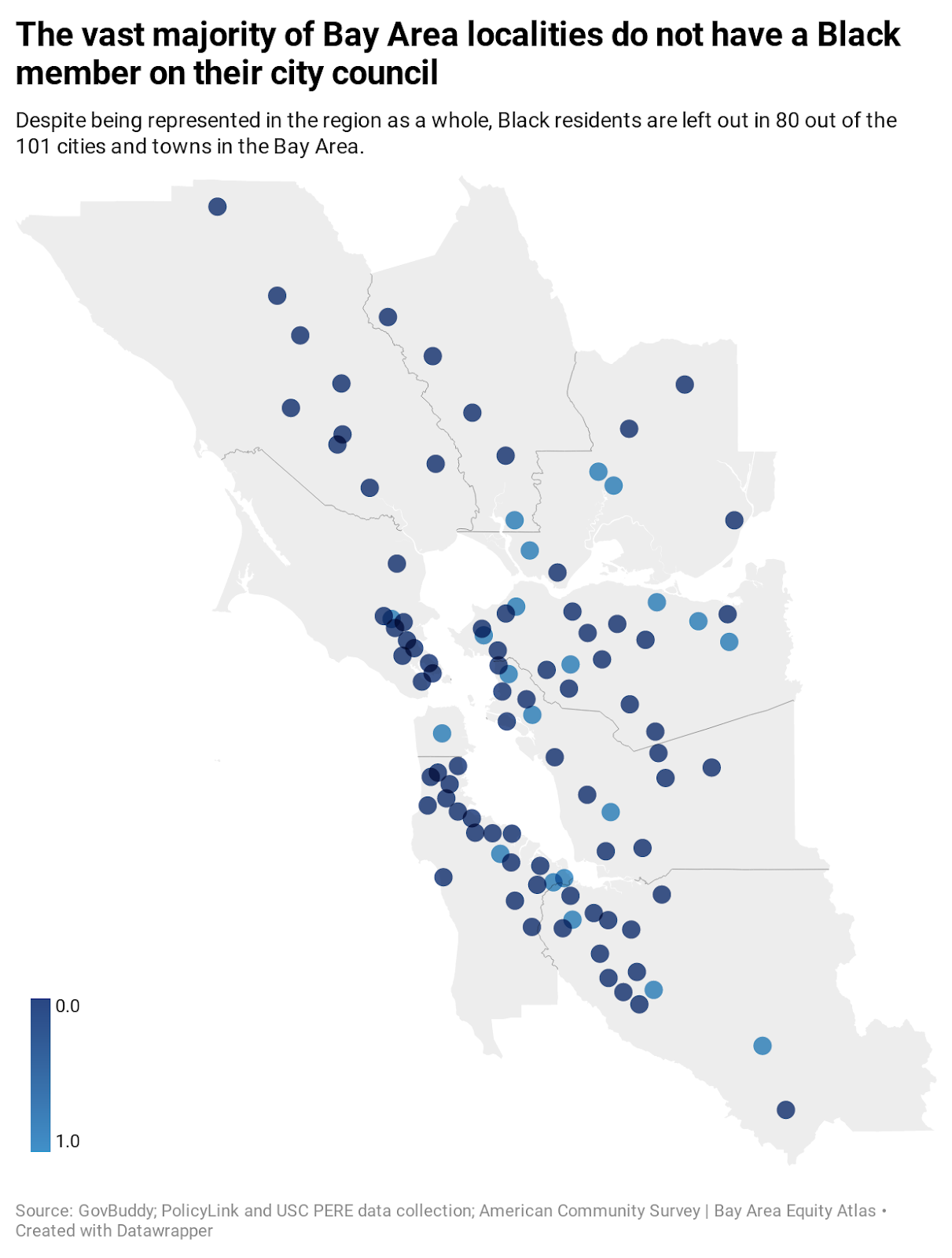 Atlas Team Featured at San Francisco Chronicle Event, California Workforce Development Board
This month, Atlas team member Sarah Trehauft participated in a San Francisco Chronicle panel to discuss how the election could impact systemic racism in housing, criminal justice, income inequality. Watch the recording here. Abbie Langston presented at the California Workforce Development Board's Innovation Fund Accelerator Week, sharing our recent report Race, Risk, and Workforce Equity in the Coronavirus Economy and strategies for advancing racial equity in workforce development.
Bay Area Leads Fund 2020 Report Lifts Up Atlas Research
The San Francisco Foundation's report about their Bay Area Leads Fund, which supports equity efforts throughout the Bay Area, featured major analyses published by the Atlas team over the last year. These include our Contra Costa eviction risk report, Bay Area Essential Workers analysis, and research on diversity of Bay Area elected officials. The report emphasizes how the Atlas team's analyses have supported local organizing and led to policy wins.
Thank you!

The Bay Equity Atlas team