Bay Area Equity Atlas Update
May 13, 2020
When you sign up for our email list (below right), you will receive updates about new Atlas content, events, and examples of equity data in action.
Dear Bay Area Equity Atlas Users,
We hope that you and your families are safe and healthy during this difficult time. Today we are thrilled to release a unique profile of our region's essential workforce which underscores how protecting the health and economic security of workers is crucial to advancing racial and economic equity and the health and prosperity of all Bay Area residents. We are also releasing two new analyses digging further into the challenge of Latinx and API political representation in our region.
New Analysis: Profile of Frontline Workers in the Bay Area
Essential workers — grocery clerks, farmworkers, bus drivers, construction workers, janitors, health-care workers, delivery drivers, and more — are on the frontlines of this pandemic, yet recent studies underscore how they are especially at risk of contracting COVID-19 and particularly vulnerable to its economic impacts. Our new profile of the Bay Area's 1.1 million-strong essential workforce, based on regional data provided by the Center for Economic and Policy Research (CEPR), including disaggregation within the region's large and diverse Asian population, finds that Latinx, Black, Filipinx, women of color, and immigrants are disproportionately represented in essential industries. These workers also have economic and social vulnerabilities: They are more likely to live in or near poverty, pay unaffordable rents, lack US citizenship, lack health insurance, and be caring for children and/or seniors at home. Check out the analysis here.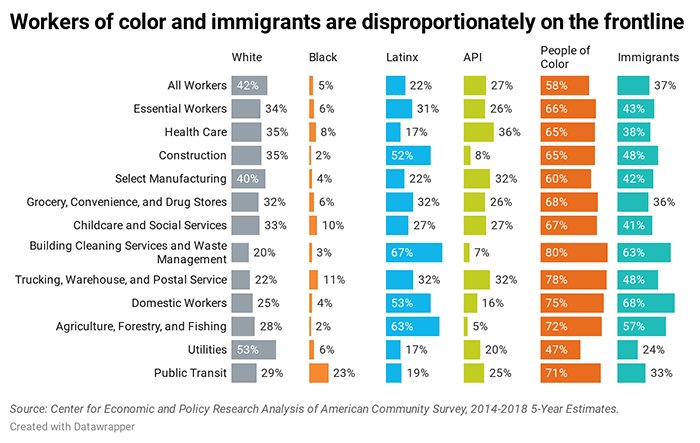 API and Latinx Populations Remains Underrepresented Among Top Elected Officials
In two new blog posts, Angel Ross digs further into our new diversity of electeds data, looking at how the region's 101 cities are doing on political representation for their Latinx and Asian or Pacific Islander (API) communities. Both APIs and Latinxs make up roughly a quarter of Bay Area residents but just 10 percent of elected officials. Although the overall representation of these groups barely changed over past election cycles, certain cities did see improvements. Fremont, which was previously among the top 10 most underrepresented cities for APIs, dropped dramatically in their ranking entirely after doubling the number of API council members. Cloverdale also dropped out of the top 10 cities where the Latinx population was most underrepresented down to number 19 as the city, which is 31 percent Latinx, elected a Latina to the city council in 2018. Read these analyses of API representation and of Latinx representation.
Local Policy Responses to COVID-19
The Bay Area outbreak of COVID-19 in early March and subsequent implementation of 'shelter-in-place' policies has led to economic uncertainty for many in the region. In response, more than 10 cities and counties in the region have passed policies that restrict or ban evictions for non-payment of rent for tenants who have lost income or incurred health costs due to the virus. Some cities like Oakland and San Jose also enacted moratoriums on rent increases and late fees. The Anti-Eviction Mapping Project's new mapping tool helps to track these policy responses as well as rent strikes in the Bay and throughout the US, and the Our Homes, Our Health campaign provides model policies for rent cancellation, eviction moratoria, and other long-lasting housing policy reforms. 
How to Use the Atlas: County-Specific Worksheets
Since June when we released the Atlas – until the stay-at-home orders – we've been conducting in-person trainings on how to use the Atlas across the region. For those sessions, we developed worksheets to confirm knowledge of how to use the Atlas. Check out our new web page that includes links to all training exercises (available for the following counties: Alameda, Contra Costa, Marin, Santa Clara, Sonoma, and San Francisco (see the regional training exercise).
Thank you!

The Bay Equity Atlas team