Bay Area Equity Atlas Update
February 27, 2020
When you sign up for our email list (below right), you will receive updates about new Atlas content, events, and examples of equity data in action.
Dear Bay Area Equity Atlas Users,
Greetings all! We are excited to share with you our latest data release: two more years of data on the diversity of top Bay Area local elected officials, and an analysis of whether the region has made progress on this indicator of community power. 
 
Despite Progress, Bay Area Diversity Still Not Reflected Among Top Elected Officials
Today, in partnership with Bay Rising, the Atlas team released a comprehensive analysis of the race and gender of top city and county elected officials across the region. We found that while the region has made some progress on political representation, it is still lagging behind: people of color hold 29 percent of top elected offices despite making up 60 percent of the population. This is up from 26 percent in 2018. API and Latinx residents are particularly underrepresented: they make up 50 percent of the population but hold just 20 percent of elected offices. This data underscores the importance of policy shifts and investments to ensure people of color can run for and win elected office, including public financing and campaign financing reform, training and support for candidates, and voting reforms to increase registration and turnout among underserved communities of color. Find the report here.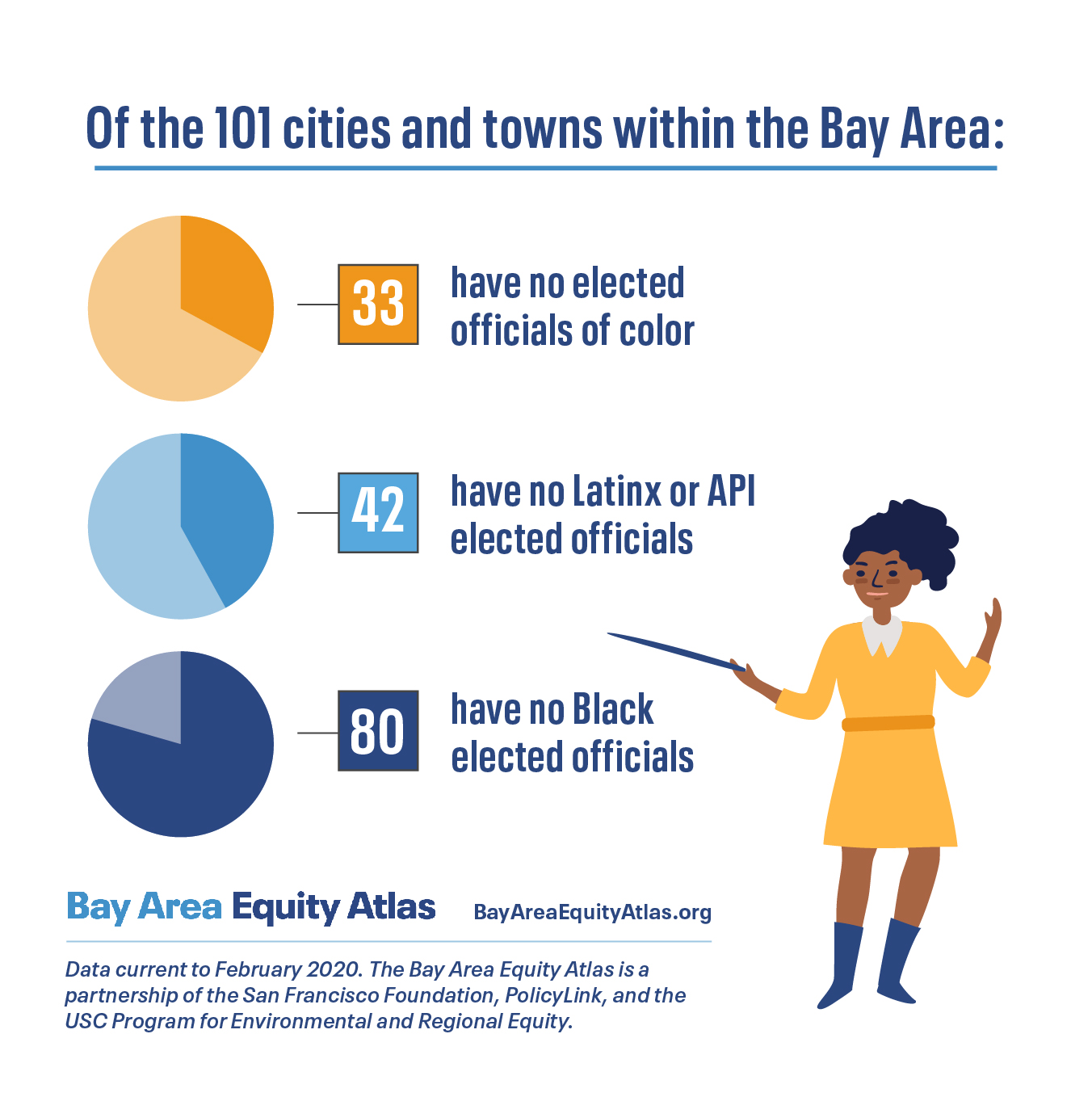 Equity Data On the RoadWelcome to New Advisory Committee Members! 
We are happy to welcome new members to our Equity Campaign Leaders Advisory Committee, including: Candice Elder of the East Oakland Collective, Mariana Moore of Ensuring Opportunity Campaign to End Poverty in Contra Costa, Tracey Brieger of Jobs with Justice, Shomari Carter of Oakland Citizens Committee for Urban Renewal, and Nikki Beasley of Richmond Neighborhood Housing Services. We kicked off our first meeting of 2020 last week, getting feedback on our plans and hearing from them about their diverse campaigns to make Bay Area communities stronger, ranging from Schools and Communities First to affordable housing and community benefits to budget justice. We look forward to supporting these important efforts with #equitydata!
We've continued to share the Bay Area Equity Atlas across the region. On January 23, we held a virtual training with the Tableau Data Fellows working with the Alliance for Boys and Men of Color team at PolicyLink. On February 4, we presented the Atlas to the Contra Costa County Workforce Board in Concord, and on February 19, we held a training with Alameda County leaders in Oakland in partnership with ALL IN Alameda County, an initiative launched by Alameda County Supervisor Wilma Chan. We also presented about the Atlas and our diversity of electeds data at the 2020 Health Datapalooza conference in Washington, DC. Interested in hosting a presentation or training? Drop us a line at info@bayareaequityatlas.org.
Thank you!

The Bay Equity Atlas team