Bay Area Equity Atlas Update
October 25, 2019
When you sign up for our email list (below right), you will receive updates about new Atlas content, events, and examples of equity data in action.
Dear Bay Area Equity Atlas Users,
Happy fall! We are happy to welcome our teammate Jamila Henderson back from maternity leave. And, as we share the Atlas with community leaders across the region, we are thrilled to hear the positive reception and learn about how people are using it to advance equity.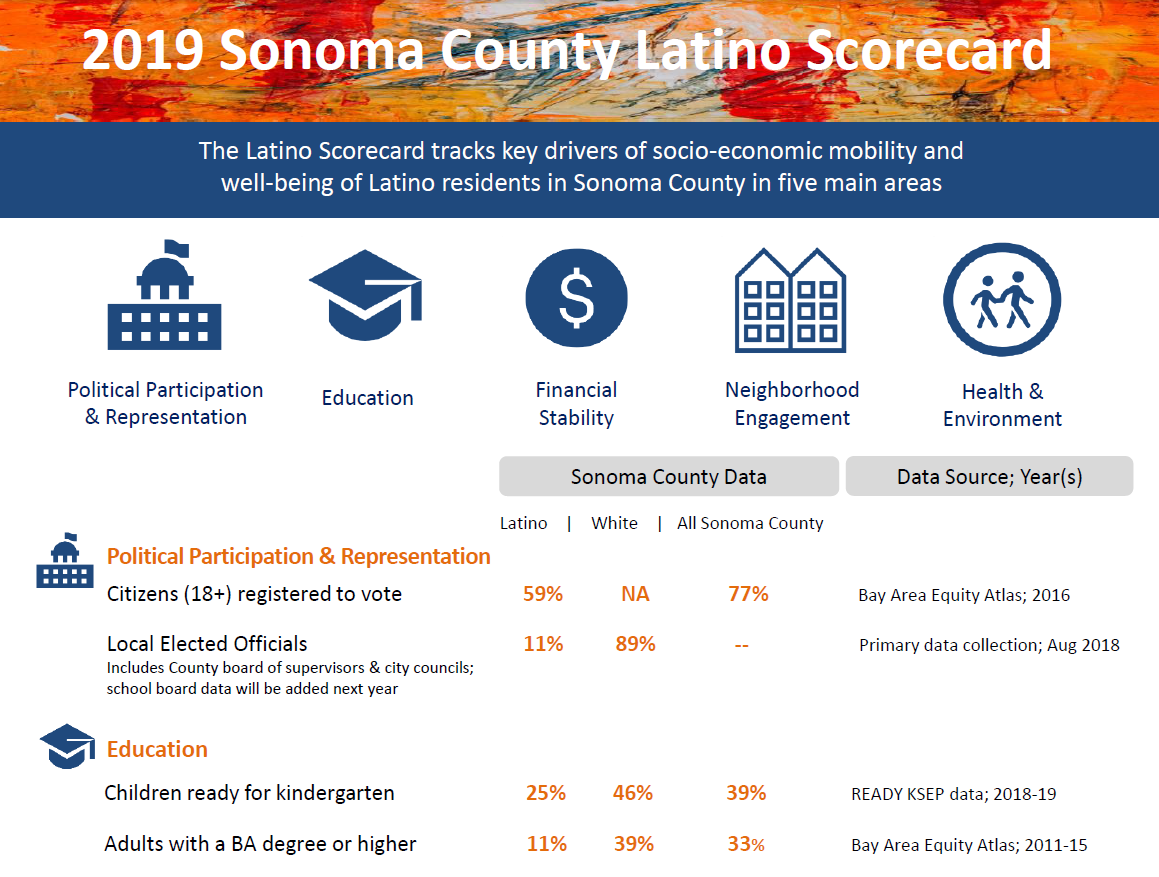 Atlas in Action: 2019 Sonoma County Latino Scorecard
On September 26th, more than 600 people attended the 6th annual State of the Latino Community Conference organized by the nonprofit group Los Cien where the 2019 Sonoma County Latino Scorecard was unveiled. Produced in partnership with Sonoma County Human Services, the scorecard tracks key drivers of economic mobility and well-being for Latino residents and will be used to inform community action to address inequities. It includes 10 indicators across five areas (political participation, education, financial stability, and neighborhood engagement), and draws upon four Bay Area Equity Atlas indicators: Voting, Educational Attainment, Neighborhood Opportunity, and Linguistic Isolation. Los Cien is convening monthly meetings to develop collective action strategies to improve upon the indicators.
New Bay Area Resources
This month we added two excellent new equity resources to the Atlas. Roots, Race, & Place: A History of Racially Exclusionary Housing in the San Francisco Bay Area by the Haas Institute for a Fair and Inclusive Society describes how practices such as exclusionary zoning, racially restrictive covenants, and urban renewal entrenched racial segregation and enabled the systematic extraction of wealth from low-income communities of color, creating vulnerability to displacement and environmental harm. Latinx Families in the Golden State: When Working Hard Isn't Enough, a new issue brief from the Insight Center for Community Economic Development, examines key economic indicators for the Latinx population, finding that more than half (fifty -two percent) of Latinx families are struggling to get by while working full-time at one or more jobs. 
Equity Ripples: East Palo Alto and Native American Entrepreneurship
The Bay City News Foundation has continued to bring the Atlas data to life through original reporting on local equity issues. This past month, they covered how the tech boom continues to impact low-income communities of color in East Palo Alto and how Native American communities are at the forefront of business ownership and have the highest rates of entrepreneurship compared with other racial/ethnic groups, but they also face barriers to business growth and success. Check out all of the "Equity Ripples" stories.
Equity Data On the Road
We've been taking the Atlas on the road and were happy to have the opportunity to share the tool at the Community Indicators Consortium annual conference in Denver, and with the Thrive Alliance in San Mateo County and First 5 Contra Costa County's Family Economic Security Partnership. We also conducted in-depth trainings with Marin County community leaders (in partnership with Rise Together Bay Area and the Marin Community Foundation) and the staff of the Contra Costa County Health and Human Services and Employment and Human Services agencies. Interested in hosting a presentation or training? Drop us a line at info@bayareaequityatlas.org.
Thank you!
The Bay Equity Atlas team