Bolstering Efforts to Keep Bay Area Renters in Their Homes
Dear Atlas users,
At the end of June, one of the critical statewide Covid-19 eviction protections for low-income tenants expired, leaving many of those who applied to the state's rent relief program at risk of eviction and homelessness. And although some Bay Area cities and counties have tenant protections that remain in effect, many families across the region continue to face hardships as a result of the ongoing pandemic and long-standing inequities. The Bay Area Equity Atlas and our community partners continue to support efforts to keep people in their homes and create long-term stability for renters. Explore our latest research and updates:
The State Has Denied Rental Assistance to More Than 26,000 Bay Area Households
California's Emergency Rental Assistance Program promised to cover 100 percent of the rent debt of low-income renters who fell behind due to the pandemic. How have Bay Area applicants fared? Our analysis of the statewide program's performance reveals that more than 89,000 Bay Area households applied. Of them, 26,362 households have been denied rental assistance as of July 13. They, along with the more than 8,000 households who are still waiting for their applications to be reviewed, continue to face the threat of eviction and homelessness. To learn more, dive into the findings and policy recommendations.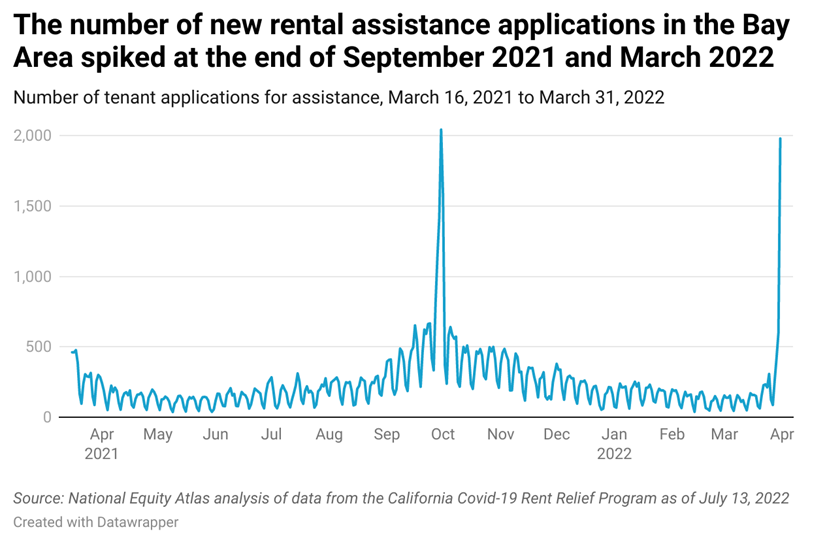 One in 10 Bay Area Neighborhoods are Segregated Areas of White Wealth
Despite the Bay Area's diversity and progressivism, racial and economic segregation persists across the region. Our maps detailing the levels of racial and economic segregation across the region's 1,572 census tracts provide an in-depth look at the issue: there are six times as many neighborhoods of concentrated white wealth than there are neighborhoods of concentrated Black, Latinx, or AAPI poverty. These highly segregated neighborhoods are located in seven of the region's nine counties, with over half of them being located in San Francisco, San Mateo, and Contra Costa Counties. Policymakers and advocates can use these maps and the underlying data to help disrupt regional segregation and guide local decision-making. Check out the full analysis.
New Analysis Reveals Persistent Racial and Gender Gaps in Access to Employment Opportunities
We recently added four new measures of employment to the Atlas: labor force participation, employment-to-population ratio, joblessness, and unemployment. In a new analysis, we highlight trends across these measures, from 2000 to 2019. The data shows that Native American and Black working-age adults in the Bay Area are most likely to be locked out of job opportunities and have higher rates of joblessness and unemployment. And women of color — particularly Native American, Black, and Latinx women — also face barriers to fully participating in the region's economy.

We're Hiring
Our team is actively recruiting for a Senior Associate to lead Atlas research engagements with community partners, including the development of reports, analyses, and local equity data tools; contribute research and data support to the Bay Area Equity Atlas; and support the further development of the Atlas tool. The ideal candidate is passionate about producing data and research that is relevant and actionable for those working on the front lines to advance racial economic equity. Please help us spread the word!
Atlas in the News
Our data and insights have informed stories about housing issues in the Bay Area in several outlets, including the SF Chronicle, SF Gate, and Mercury News. For more, check out the complete list of our coverage.
Atlas Data in Action
The Bay Area's housing crisis has been growing for decades, driven by a persistent lack of affordable homes and uneven wage growth. To address this crisis and support housing planning efforts, the Partnership for the Bay's Future and the Chan Zuckerberg Initiative have released the first phase of the Housing Readiness Report. The new tool helps users track, monitor, and get involved in their city's housing plans and policies. Powered by several sources, including the Bay Area Atlas and the National Equity Atlas, the resource features the latest data on racial diversity, rental housing burden, affordable housing production, and housing policies. Interested in delving deeper into your community's housing needs and getting trained on how to use this new tool? Join the training session at 10 a.m. PT on August 23.
Thank you,
Bay Area Equity Atlas team