2021 in Review: Data to Power the Movement for a More Equitable Bay Area
Dear Atlas users,
Throughout 2021, the Bay Area Equity Atlas team continued to equip local community leaders working to address structural racism and the inequitable impacts of the pandemic with actionable insights and analyses, and 50,000 users turned to the Bay Area Equity Atlas to access equity data and policy tools – double the number of users in 2020. The new federal administration, with its pathbreaking day-one executive order on racial equity and the historic American Rescue Plan, offered renewed hope and resources for an equitable recovery. But delivering on equity will take continued advocacy for transformative, race-conscious policies and investments, and we are gearing up to power those efforts with relevant and deeply disaggregated data. Here are some highlights from the year.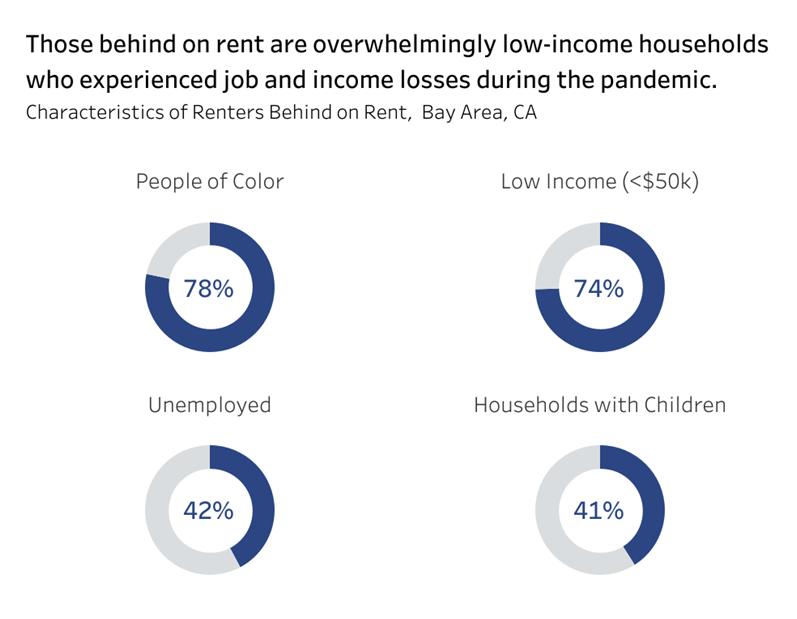 Powering Advocacy for Eviction Protections and Rent Relief
As the second year of the pandemic unfolded, we were proud to support efforts across the region to protect vulnerable Covid-impacted renter households.
We worked closely with local advocates fighting for eviction protections to produce resources for their campaigns, including fact sheets on eviction risk and rent debt for California, the Bay Area, and unincorporated Alameda County in partnership with the Raise the Roof Coalition, People's Alliance of San Mateo County, North Bay Organizing Project, and Housing NOW.
We partnered with Right to the City Alliance to build a regularly updated rent debt dashboard providing timely, local data (including for the Bay Area) on the extent of renter debt, the characteristics of households affected by it, and the distribution of rent relief.
With Housing NOW and BARHII, we surveyed 177 workers conducting intake and outreach for California's emergency rental assistance programs to help policymakers, service providers, and intermediaries understand the challenges renters face in accessing relief, from technological and language barriers to fear of landlord retaliation. Tenant-serving organizations have successfully advocated for the state to address some of the barriers and program flaws highlighted in our report.
Illuminating Progress – But Continued Inequities – in Local Political Representation
The Bay Area is one of the most diverse regions in the nation, but people of color still face significant barriers to accessing and exercising political power. This year's data on the diversity of high-level elected officials in the Bay Area revealed that while the share of Black and Latinx electeds increased after the November 2021 election, our political leaders are still not representative of the region's rich diversity: People of color make up 60 percent of the region's population but just 34 percent of top elected officials. With Bay Rising, we hosted a panel discussion exploring the challenges candidates face and pathways for increasing political representation, where Clarissa Doutherd and Shanthi Gonzales shared their experiences as women of color running for Oakland Unified School District board. The San Francisco Chronicle, SF Gate, San Francisco Public Press, and the Daily Journal reported on our analysis.
Updating and Expanding Our Indicators
Our metrics are now updated to include the most recent data available (2019, in most cases), along with key insights from this data. In September we added Homeownership as our 22nd indicator, displaying homeownership rates by race, gender, nativity, ancestry, and geography between 2000 and 2019. We also released updated data and trends for California's Tribal Nations to make it easy for users to access key insights for this population, as Native Americans are a relatively small share of the Bay Area population (less than ½ percent), and data availability varies across the region's counties and cities.
Launching the Racial Equity Data Lab
As part of the launch of the Racial Equity Data Lab, we worked with Tableau expert Chantilly Jaggernauth of Lovelytics to produce "How is the Black population doing in the Bay Area?", a regional dashboard that presents indicators of economic and political inclusion, education, and justice for the Bay Area's Black population. We found that median wages for Black women are nearly $20,000 less than those of their counterparts. The Lab is a new feature that helps you tell your community's equity story using custom dashboards and displays powered by Tableau software and Atlas data.
Atlas In the News and On the Road
This year, our data and analyses informed 52 print and digital news articles in outlets including the San Francisco Chronicle, USA Today, NPR, Mercury News and SFGate ( full list here). We presented to diverse audiences, including the Commonwealth Club of California, the Contra Costa County Board of Supervisors, San Francisco Tableau User Group and Berkeley Opportunity Lab.
Join Our Team!
USC Equity Research Institute is hiring a one-year postdoctoral position to provide data analysis support to the Bay Area and National Equity Atlas team. The fellow will help the team design, organize, and conduct advanced quantitative analyses producing academic articles as well as popular reports. Please send experienced candidates our way!
Thank you,
Bay Area Equity Atlas team